In the ever-changing DeFi landscape, investments and savings play a significant role for platform users. In order to fuel massive adoption, a plethora of smart financial applications are required to drive mainstream adoption to DeFi users. Projects continue to embark on revolutionizing the modern financial landscape. But Nord Finance is one of the decentralized protocols that has had an exhilarating journey so far to unleash the potential of decentralized finance. 
Introduction to Nord Finance
Nord Finance, a blockchain agnostic platform, is an advanced decentralized financial ecosystem. It focuses on simplifying decentralized finance products for users by highlighting traditional finance's key attributes. Deployed on the Ethereum Network, it integrates multi-chain interoperability. Thus, it proposes a plethora of financial primitives. These primitives constitute savings, advisory, loans against assets, investment/funds management, and swaps.
The platform governance allows users the freedom of to choose the optimal yield-farming strategies that could benefit them based on their requirements. In order to deliver the highest possible risk-adjusted returns through multi-chain yield-farming, various strategies are outlined. The most highlighted feature constitutes smart contracts' interoperability that delivers the highest APY. It dynamically rebalances and re-routs digital assets across liquidity pools that maximize yields.
What distinguishes Nord Finance from other permissionless protocols? Its in-built Robo-advisory feature. This feature curates customized strategies for potential users in tandem with the pre-planned financial objectives. Thus, Nord Finance becomes an integral part of the users' financial journey. The platform also offers possibilities of borrowing loans against their crypto assets and cross-chain swaps seamlessly, fixing a missing piece in the trustless ecosystem.
Nord Finance strives towards building a comprehensive and integrated solution for the ever-advancing decentralized financial ecosystem to assist users in their financial journey. They are primarily focusing on four significant products:
Nord.Savings: 
Allows optimizing returns through a multi-chain yield-farming mechanism for stable coin farming with the highest possible risk-adjusted returns. To maximize returns, the protocol employs the highest risk-adjusted APY's. Whereas it leverages the DeFi Score framework to assess and analyze the dynamics of protocol risks. Nord.Savings provides a seamless interface to access the world of DeFi-based yield farming effortlessly without any technical implications as the traditional financial counterparts.
Nord.Advisory: 
An inbuilt robo-advisory service designed to chalk out profitable and customized strategies for users to hold better positions based on their financial goals. The automated robo service analyzes the user profile and evaluates personalized solutions that will help accomplish the users' financial goals by employing a diversified portfolio. The data-driven proprietary algorithms facilitate unleashing the potential of a certain portfolio by executing smart tactics. This service is a revolutionary move as the technical nitty-gritty of the DeFi landscape might seem a bit complex for novice users, thus demanding assistance for the same. 
Nord.Loans: 
DeFi users can leverage their crypto assets to their greatest potential by pledging them in smart contracts to avail loans for unanticipated circumstances. The process to avail of an instant over-collateralized loan is quite uncluttered and hassle-free. This is a smart alternative to borrowing loans without liquidating the crypto assets to meet financial obligations. It also offers a personal overdraft facility with the benefit of paying interest while withdrawing the amount.
Nord.Swap:
Built on the Ethereum Network, Nord.Swap is a blockchain agnostic permissionless instant swap protocol driving cross-communication and interaction of virtual digital assets effortlessly. The future of decentralization rests in multi-chain. Therefore, Nord.Swap powers innovation by offering a multi-chain swap facility for DeFi users. This is one of the essential aspects of a decentralized future.
Key Attributes of Nord Finance:
Highest Returns: Automated portfolio rebalancing mechanism across various liquidity pools for the highest risk-adjusted APY
Automated Robo-advisory services: Customized strategies formulated based on user interest designed to meet their financial goals 
Cross-Chain Swaps & Interoperability: Provide cross-chain liquidity to ensure users across other chains have access to DeFi ecosystem resulting in smooth-trades and better liquidity  
Loan against crypto assets: Providing liquidity to users by offering a pledging mechanism of their crypto assets in the protocol to borrow loans seamlessly
Transparency: All transactions are visible on the blockchain thus ensuring complete transparency to all users 
Community Driven: Nord Finance governance token's primary utility constitutes voting on proposals pertaining to yield-farming strategies
Zero-Cost Transactions:
No upfront network fee for deposits; the smart contract absorbs the gas fee, which is adjusted in the final APY

Pooled liquidity to deliver up to 99% savings on the transaction fee to its users thus making the DeFi ecosystem accessible to the masses
Connect & Stake: A hassle-free mechanism facilitating seamless user experience with an intuitive UI offering one-click access to DeFi Yield Farming
Intuitive & Easy to Use UI: Track portfolio & APYs in real-time through seamless interoperability, thus enhancing the overall user experience
Tokenomics: $NORD token 
$NORD is the central representation of the Nord Finance ecosystem. It allows users to either mine $NORD token via our liquidity mining program or purchase $NORD via centralized and decentralized exchanges. Its significant utilities involve staking, yield farming, and voting on various proposals across platforms.
The total supply of Nord Finance aggregates to 10,000,000 $NORD.
The investors are vested for a year and will have a daily basis distribution of not more than ~5k tokens. This was finely created to avoid sell pressure on the markets.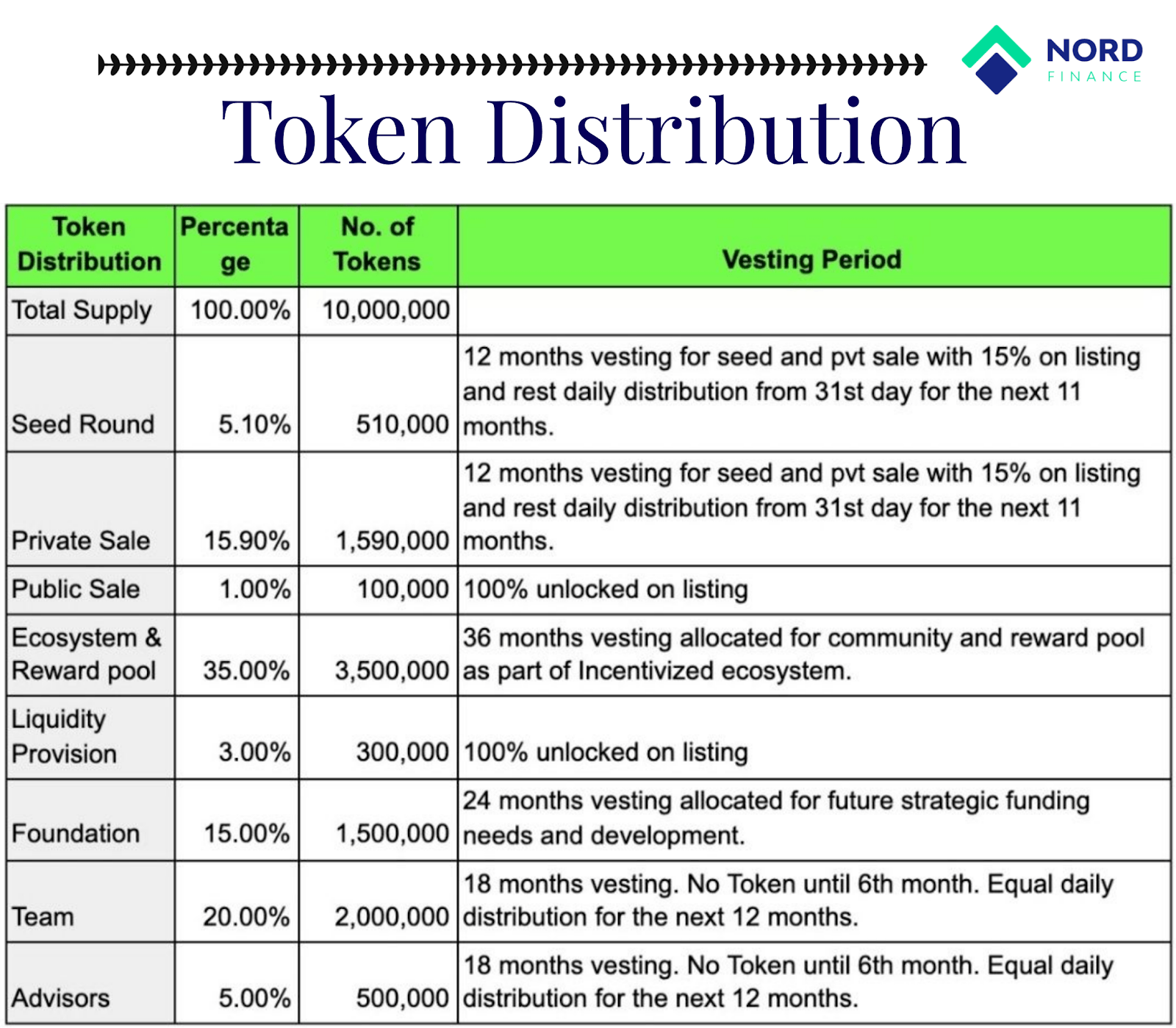 Ecosystem and Partnerships
While forging strategic collaborations, Nord Finance has been relentlessly working on the technological front to drive the integration with strategic partners to reality. The recent collaborations have helped Nord Finance gear up its journey towards simplifying DeFi with promising ecosystem partners. Some of it's partners include Frontier, Zokyo, Unilend, and Orion Protocol.
Nord Savings V1 Beta testing phase
Nord Finance recently launched its Community Beta Testing Program via its testnet release to encourage maximum participation from its community to experience the first look at its Nord Savings Product. The testnet launch was primarily a social community activity to encourage community pioneers to provide valuable feedback about the products and further improvements to ameliorate the overall user experience, thus outlining differences between Nord Finance and major DeFi players. 
Nord Savings Audit and Launch on Ethereum Network
Nord Savings has successfully concluded its smart contract audit from leading blockchain security firm Zokyo. The Zokyo team had a detailed review of its codebase, therefore testing the intricacies and vulnerabilities of the platform. The Zokyo team audited the smart contracts on the technical and economic front. Their team verified the correctness of the platform. After the successful audit, Nord Finance launched a bug-bounty program. It allows for for intricate analysis of the smart contract code by third parties as it is closer to launch on the Ethereum Network. 
Conclusion
The journey so far was exhilarating, and Nord has exciting surprises unfolding in the upcoming future. By leveraging its strengths as a DeFi platform, Nord is delivering massive milestones. Its core ideas are to bring DeFi to the mainstream and harness its utilities in the best possible way.
To join the conversation with Nord Finance, join its Telegram Telegram group and its Telegram channel. You can also engage with Nord Finance on social media by following its Twitter.