When it was first publicly announced, I couldn't stop tweeting about how bullish it was that the first-ever crypto exchange was being listed on the NASDAQ. Diginex Global, the parent company of EQUOS, was listed in October of 2020 on Nasdaq, making EQUOS the first crypto exchange to be listed in the United States of America. This was, and still is, wildly bullish for Bitcoin and crypto in general because it paints a favorable picture of our little bubble for the entire legacy financial system to see.
So, what is Equos?
"EQUOS is a digital asset exchange built to institutional standards available to everyone."
EQUOS is the exchange of the Diginex Group, a blockchain financial services company that provides regulated solutions for digital asset investing — including capital markets, custody, and asset management. The exchange is built with security and transparency principles to meet all the strict regulatory standards of 2020 and beyond. The Diginex Group was listed on NASDAQ in October 2020— making Equos the first crypto exchange to list in the US.
And what is Diginex?
Diginex was established to drive digital asset and blockchain adoption. The Diginex team seized the opportunity to create a product focused on institutions that embodies all the aspects of the emerging industry while also staying regulatory compliant as well as fair to its users.
There are four distinct parts of Diginex, the Equos exchange, Digivault (their custodian solution), Diginex Capital (their investment bank for institutional investors), and Bletchley Park (their asset manager).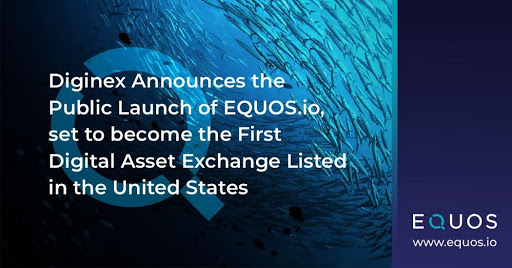 The focal point, the EQUOS.io exchange.
What I'm personally most interested in also happens to be Diginex's main objective right now, their crypto exchange — EQUOS. Diginex's view of what is currently missing in the crypto industry is what sparked the idea of EQUOS: a compliant, fair, and trustworthy cryptocurrency trading platform that plans to differentiate itself with products that are available to both retail and institutions. EQUOS aims to bridge both institutional and retail investors to provide a one-in-all platform to trade as well as introduce features from the traditional markets into the crypto markets. Currently, EQUOS offers a spot exchange for crypto investing; with perpetuals and options coming at some point in the future.
Within Dignex's Exchange division is Diginex Access a trading system that allows investors in multiple exchanges to execute algorithmic trading strategies through one UI. A simplified portfolio that provides institutional-quality management to manage your risk exposure as well as other measures to control your risk parameters.
"Diginex is building the bridge between traditional finance and digital assets…Diginex hopes to drive crypto adoption across the world."
Equos compliance in a crypto regulatory era
The EQUOS exchange is demonstrating compliance with constantly changing regulatory standards. They are keen on becoming the bridge between traditional finance and digital assets. It is crucial to align their business model with a jurisdiction that has both an innovative as well as trustworthy legislation for digital asset trading.
The Monetary Authority of Singapore (MAS) has recently passed the Payment Services Act, providing a legal framework under which digital asset solutions can operate safely, without limiting said capabilities. The MAS has allowed EQUOS to operate under an exemption.
"The MAS has recognized that technology, in particular FinTech, or Financial Technology, is transforming the world of payments, while new payment methods also give rise to new risks. It, therefore, reviewed its regulatory framework applicable to payments systems and payment service providers and proposed a new regulatory framework."
Ong Ye Kung, Singapore's Minister for Education
They are aiming to create EQUOS, a platform that appeals to both the traditional and digital asset communities. With proper governance and compliance, all users can safely interact with the EQUOS exchange.
Equos and liquidations
EQUOS has unique features dedicated to managing liquidations. They utilize a 4-step process with the aim of minimizing the chances of clawbacks. The four features are:
Liquidation Platform: The liquidation platform can be seen as an order book with quotes from market makers to take on liquidation orders. This platform is separate from the main order book and prices here can only be filled by liquidation orders.
EQUOS Order Book: If there is not enough liquidity in the liquidation platform to fill the liquidation order at or above the zero price, orders will be sent to the public order book.
Liquidation Reserve: If the public order book is unable to absorb the liquidation order at or above the zero price, the position will be assigned to the liquidation reserve at the zero price. The account holder would have a negative account balance. That excess loss is covered by the Liquidation Reserve.
Auto-Deleveraged Liquidations: With ADL, loss-making liquidations are matched against other opposing open positions on EQUOS, starting with highest leverage and profitability. EQUOS will only ever enter ADL if the liquidation reserve is drained where no more risk can be taken.
Equos CEO Richard Byworth
I was fortunate enough to have Richard come on the WOAS show and share everything I have talked about in this blog. The show was exciting and some of my favorite quotes from Richard's time on the show are below.
"People were running in Hong Kong with suitcases full of cash facilitating Korean retail trades on an OTC basis."
"Right now, in crypto, we are approaching a massive adoption curve."
"We are at the beginning of an entirely new boom in finance."
"The advent of digital securities will be transformative for the investment world."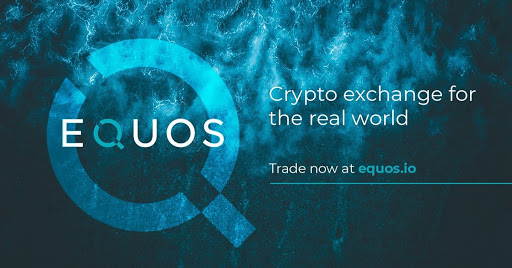 Equos wrap up
EQUOS provides a next-generation infrastructure to elevate your trading experience. Their seamless FIX native integration combined with their intuitive interface creates an exchange suited for institutional and individual traders alike, driven by a lightning-fast matching engine. I encourage you to check them out, their services cater to a wide audience looking for providing a top-notch experience for all of their users.