Elitium is the latest major addition to my portfolio. EUM is now my biggest altcoin holding.
I've invested in running an Elitium masternode, which will generate up to 28% EUM rewards over the next twelve months. A masternode, if you aren't familiar with it, is the fancy consensus method for proof of stake blockchains, similar to how mining is the consensus method for proof of work. I've chosen to invest in Elitium not only for the high rewards but because the company is on a mission that feels truly special.
This isn't a coin I am in for quick profits; this is now a major holding of mine, alongside Bitcoin and Ethereum. We plan to intensify our partnership in the future and I am very excited to be part of their journey. 
If you dig into the coin stats, you'll see EUM has gone up three-fold in just five weeks. But that still doesn't change my strategy. The level of utility this team is creating, coupled with the investors they have on board, means they're just at the beginning.
Check out my Q&A with the team to find out what's in store for the coming months along with the driving force behind the recent price rise.
______
Elitium is creating a digital economy of independence, value & growth. What does that mean? What is Elitium?

Elitium is redefining value in a shifting world, using modern technologies to connect the old world to the new. 
In more concrete terms, we're giving investors the opportunity to manage their wealth more efficiently by using blockchain technology, without them having to worry about technical barriers. As 2020 clearly demonstrated, more people are now getting into crypto; including both, private investors alongside more mainstream institutions. 
That said, overall uptake will still take time because bigger players have bigger obstacles to overcome (internal politics, regulations, etc). Still, we're seeing high-net-worth individuals and macro investors participating in the market. This is where Elitium's wealth management solution comes in.
Elitium gives these types of investors a gateway into blockchain-based investments, helping clients diversifying their portfolios into crypto, DeFi and tokenized assets, all powered by a native ERC20 token EUM, which is the beating heart of Elitium.
Currently, the platform has five wealth management products:
Staking:

Get up to 6.5% annual EUM rewards

Masternodes:

Get up to 28% annual EUM rewards for holding EUM

US Dollar Savings:

Earn up to 3.4% APY paid in USD

Gold Savings:

Earn up to 1.2% APY in a gold-backed savings account

Tokenized Real-World Assets:

Earn up to 5% APY
The last product, called Elitium Capital, lets investors buy digital shares in luxury real estate art and other valuable assets, trading the tokens or receiving dividends paid by the asset owner.
As you can see, Elitium clients have plenty of ways to either systematically create wealth or just secure their wealth with a more diversified approach.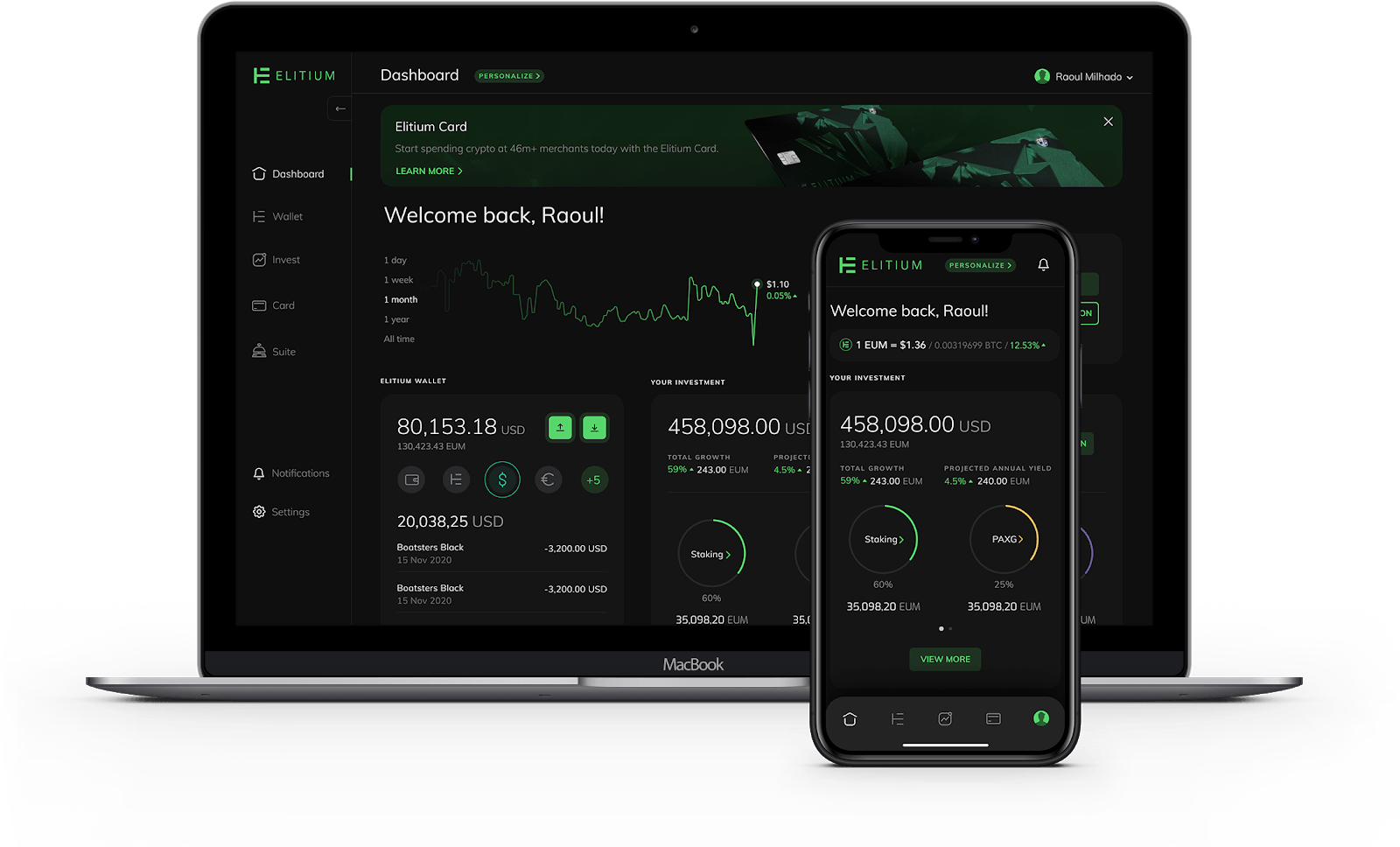 Who are the people behind the Elitium Team?
Elitium was founded by Raoul Milhado, Jean-Pierre Morand, and Collin Gelevert.
Raoul met Jean-Pierre in his hometown of Amsterdam in 2016, initially exploring how to bring crypto-payments to the luxury world. 
As their ambitions grew, Raoul and 'JP' recognized the need for additional legal and financial expertise, onboarding Collin as the third co-founder, Chairman, and CFO of Elitium.
Prior to Elitium, Raoul founded and exited a venture in digital marketing. He's remained a driven entrepreneur since his early professional years, ultimately spearheading Boatsters Black, a superyacht charter, before becoming the CEO of Elitium.
Jean-Pierre Morand, 'JP', is a tech specialist who's spent a lifetime involved in frontier tech, first helping bring the internet to France before diving into the blockchain. He has 8 years' blockchain experience and is the Elitium CTO.
Collin Gelevert has worked in global businesses since the 80s, leveraging his financial expertise to set the legal and compliance strategy of Elitium in his role as Chairman and CFO.
What makes Elitium unique?

Elitium brings together a variety of blockchain investments in one simple-to-use platform, eliminating the complexity and security implications of holding a blockchain-based portfolio. Due to the efficiency of their technology, investors can save a lot of time managing their wealth and simultaneously generate higher returns than in traditional systems on a sustainable basis.

Elitium makes it easy for every accredited investor to access the world of blockchain-based products and grow their wealth in a straightforward, streamlined, and secure way.
Thanks to a robust network of private inventors — Shahal Khan and merchant bank GDA Capital — Elitium has never held an ICO, instead using private funding to build its product portfolio in a sustainable manner.
The strategy has created a stable foundation for our token, which ultimately allowed it to weather the pandemic and perform very well in March last year. And with the market taking off, EUM is once again showing its strength with very impressive performance since early December.
Elitium is my biggest altcoin holding now since I purchased the masternode. Can you remind me and the readers what the main selling points were that led me to invest a significant amount of money in a low market cap coin that isn't ideal for trading? 
Well, it all starts and ends with Raoul (Elitium CEO), he has a vision for the company that he is willing to do anything to achieve. He's entirely focused on creating value for people, using the positive aspects of the blockchain to realize this ambition.
You can see the intent behind his mission; the honesty in his team's work. It's hard not to feel inspired when you speak to Raoul and watch Elitium at work: this is what initially motivated you to consider the investment.
Then you tested the Elitium App preview — due to launch in Q1 of this year — and were blown away by the intuitive nature of what is really a very complex offering in the background. The App could well help take crypto mainstream, which in itself holds immense value.
And when you consider the fundamentals: 
There's

very little selling pressure

on the coin given Elitium never ran an ICO;

A masternode investment offers

28% annual rewards

(with staking topping those up with up to

6.5% annual rewards

);

And with

partners of the caliber of GDA Capital and Shahal Khan

on board, Elitium has very well resourced investors who've proven their worth in the crypto world.
All things considered, Elitium has all the characteristics of a solid long-term play, and like you said, you have no intentions to trade, which is why you and the partners felt comfortable making an investment at this early stage.
Where can a reader buy Elitium?
Elitium currently ranks in the top 250 coins on Coinmarketcap, with a market cap of over $100m based on a circulating supply of 30,086,253. When it comes to trading, the coin has a daily trading volume of around $500,000 from three exchanges.
If you hold your coins on BitMart, you automatically get up to 7% annual staking rewards in an exclusive offer launched on January 1st 2021.
Trade EUM at the following exchanges:
Feel free to reach out to contact@elitium.io or join the Elitium telegram group if you have any questions or need further assistance in the buying process. For larger investments we also offer OTC Deals and customized Dashboard Designs. 
Why is Elitium outperforming so many other altcoins?
The driving force behind Elitium's price rise is a combination of a few factors. The most important is that Elitium never did an ICO, the result of this is there are less weak hands in the Elitium market. Rather it is high net worth individuals and capital partners who tend to buy the dip instead of panic selling. This has created a very strong price floor and foundation for the asset resulting in Elitium outperforming all top 50 altcoins in BTC comparatively.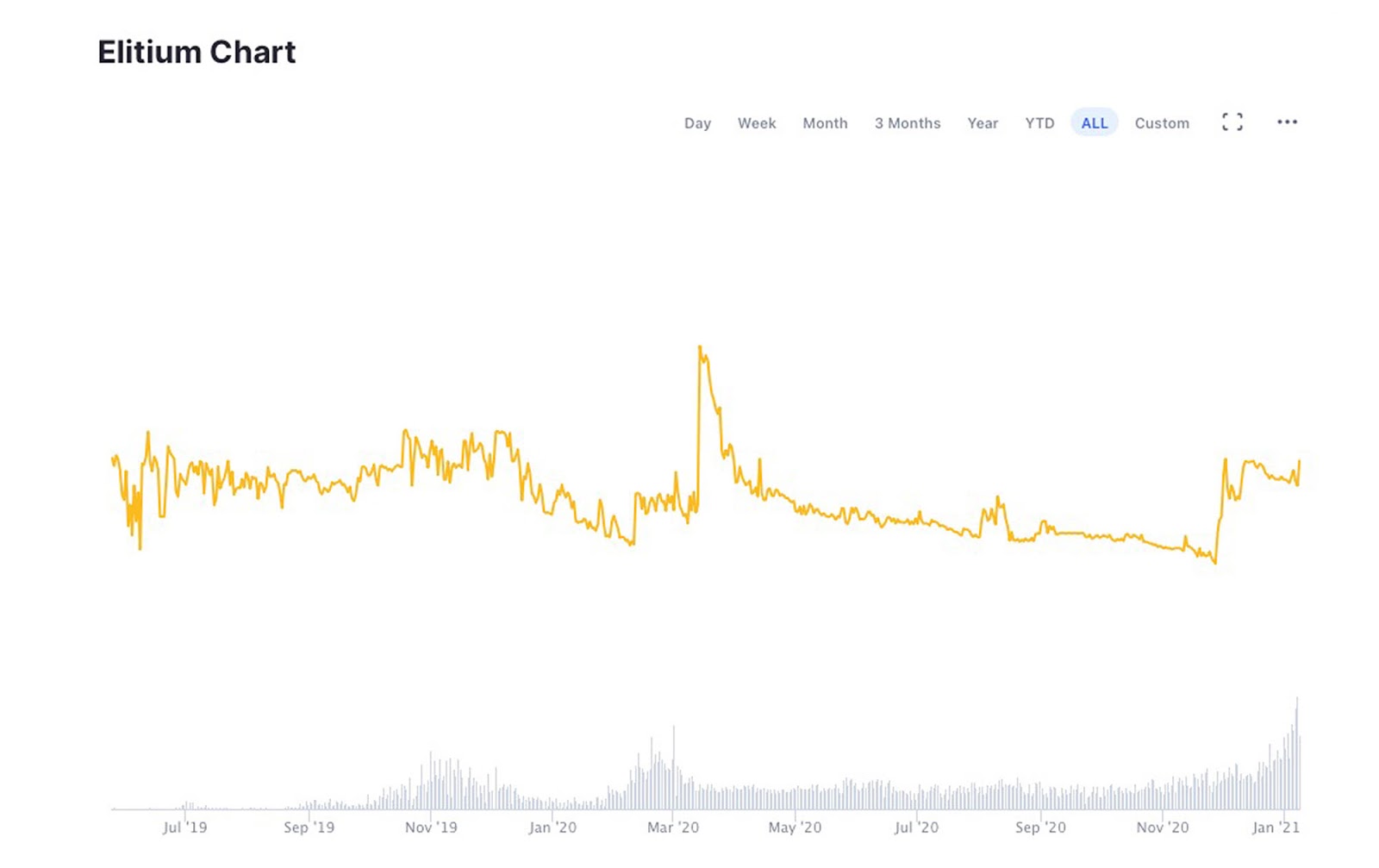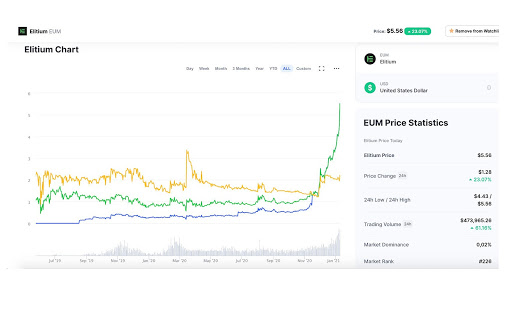 I'm very familiar with Elitium, but what is the best way to get involved with the project? 
With tons of technical development on our imminent horizon, the tangible value Elitium currently brings to the market is going to change radically. The best way to stay on top of all Elitium news is to join our ecosystem, and there are several ways to do this: 
Participate in the Elitium token economy through the aforementioned exchanges

STEX:

EUM/BTC

FatBTC:

EUM/USDT

Follow Elitium on Telegram